Meadowbrook Haunted Cornfield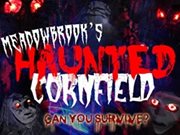 2970 Mile View Road
West Bend, WI
Haunted Cornfield is well on its way to be the best ever! With Many New creatures, animatronics & and scenes.
The Meadowbrook Pumpkin Farm Haunted Cornfield experience is a MUST SEE - MUST DO - ONE OF A KIND adventure. YOU WILL HAVE FUN, and it WILL BE the FUNNEST THING you do this October! It's different from a Haunted House, totally un-staged and hair-raising! The country style bonfire with Haunting Stories of past spooky or ghostly times in the valley is experience worth it by itself.
The Live-Actor Nighttime Haunted Cornfield Adventures are on Friday and Saturday nights ONLY. That is the most intense time to come! Enjoy our Bonfire and hear haunting stories of past ghosts and spirits haunting the Farm, while you muster up the courage to make your way through the haunted cornfield! It has live actors, fog, specialty sound effects, action creatures, and light effects. It is geared for older kids & adults. This farm-style haunt takes 40-45 minutes to complete. There are chicken gates along the way for those of you who cannot handle it or fear your health won't take it.
Experience the Haunted Cornfield Adventure - Over 3/4 mile of narrow mulch-covered trails that spread over a wide 6 acres of land. It is a jungle of tall corn, full of haunted & scary scenes, with action and sound effects, and almost alive-like creatures during the day... BUT MUCH MORE HAUNTED AT NIGHT! Creatures come to life... The fog rolls in... And eerie sounds fill the air while lights flicker and disorient you. Just like the eerie effects that one thinks of in the dark and creepy cornfields late at night. You never know which creatures are real, and which are not. However, touching the art exhibit displays or actors is strictly prohibited! You won't believe the effort we put in for your enjoyment. You will witness over 60 scenes, well over 200 creatures, sound effects, action figures, and live actors and props. THIS IS AWESOME! IT'S DEFINITELY "A MUST SEE, MUST DO ADVENTURE!" (It goes on light rain or moonshine) We continually change and add more to the field each season... More actors, props, and action characters. You will definitly get ideas on how to add to your Halloween pumpkin displays! We definitely have grown to be a one of a kind event in the midwest. Some say we put on a Hollywood-quality art display for Halloween. Well, we are on our way there!
Come early! We send people through in small groups of 6. Flashlights are not allowed! No long lines!
Email Haunt Owner
Daytime Creepy Cornfield – Great For Family Fun!

This creepy action sound packed exhibit/haunt takes about 40 minutes to complete.

Daytime creepy cornfield is open 11am – 8pm.

The Daytime Creepy Cornfield is designed for thrilling family fun! Parents will have a great time participating with their children as they get involved in sharing with the kids how corn grows, how soil conditions affect its growth, learn what animals eat corn, and how they grow from it. Watch the kids have fun, and learn as you go through the cornfield maze, exploring the characters and scenes. Then, it gets spooky. Most kids can handle this fine. You know your kids best. If you think they cannot handle it, use discretion. The Daytime Creepy Cornfield is not too gory, gross, or startling.
All photos and videos within this listing are the property of Meadowbrook Haunted Cornfield
Email Verified

Exhilarating scary fun

The scary fun was exhilarating. They had creative props, incredible actors and eye catchy special effects. Love to be scared this way with loads of fun.

| | |
| --- | --- |
| Scare Factor: | |
| Fun Factor: | |
| Haunt Value: | |

Posted December 2018

Email Verified

Good entertainment...

It was not our first time here. Been in our Halloween bucket list for quite some time. The fact that we can take our little ones and have scary fun while they can also enjoy is always a bonus. A wholesome package. Children made merry at the mini haunt houses and the maze. Maze was non scary with lots of light hearted and exciting props and special effects on display.

| | |
| --- | --- |
| Scare Factor: | |
| Fun Factor: | |
| Haunt Value: | |

Posted November 2018

Email Verified

Super spooky

Scary but fun. This was a great attraction to bring the kids. But My 12 and 14 years old loved it. Everything was super spooky and really worth it.

| | |
| --- | --- |
| Scare Factor: | |
| Fun Factor: | |
| Haunt Value: | |

Posted October 2018

Email Verified

Best of its kind...

The scary maze was great fun and scare. One of the best of its kind. Actors did a fine job and hit the scares on the face. Definitely deserves a 5 star rating.

| | |
| --- | --- |
| Scare Factor: | |
| Fun Factor: | |
| Haunt Value: | |

Posted October 2018

Email Verified

Perfect blend for fun and fear...

A perfect blend for fun and fear for the whole family. You could plan to spend a whole day. There are day and night sessions and of course the farm fresh market. There were mini haunt houses for the kids. You can find them having a blast there. No actors with bloody makeup. Just mechanical props and light and sound effects.

| | |
| --- | --- |
| Scare Factor: | |
| Fun Factor: | |
| Haunt Value: | |

Posted October 2018

You can feel the scary vibe in atmosphere...

I was very impressed with the entire set up. The scary maze was great. They had actors do the scenes and pop scares. The scenes were cleverly placed at the right location. The ambience had a scary vibe. On the whole a great outing.

| | |
| --- | --- |
| Scare Factor: | |
| Fun Factor: | |
| Haunt Value: | |

Posted October 2018

Email Verified

Amazing event

Fantastic. They put on an amazing event. It was the best maze I have tried so far. Great location to have a field trip or an office get together.

| | |
| --- | --- |
| Scare Factor: | |
| Fun Factor: | |
| Haunt Value: | |

Posted October 2018

Family friendly

Cornfield are always an enjoyable affair. It was an amazing experience and a family friendly haunt. The corn maze was neat. The spooky child friendly maze was devoid of actors. They had light hearted fun with action props and had good special effects. Kids enjoyed their time in the maze and in the mini haunted house.

| | |
| --- | --- |
| Scare Factor: | |
| Fun Factor: | |
| Haunt Value: | |

Posted October 2018

Email Verified

Fun experience

At $25/person, it was kind of pricey. It took me about 1 hr to get through the whole thing.. There were many little haunted houses on the way, each one with its own share of special effects, props and scary characters. I screamed couple of times to be honest. Awesome pumpkins and gourds capped the visit. Overall, it was a fun experience.

| | |
| --- | --- |
| Scare Factor: | |
| Fun Factor: | |
| Haunt Value: | |

Posted November 2017

Email Verified

Low intensity horror

Very disappointed at the lack of intensity of the horror. It was not scaring, but disturbing, annoying and unsettling. The design of maze was below average and the entire show is build up on the hype. There was no progression of story from one attraction to other and entire special effects were out of order. Actors were good in shape and size but lacked in skills to frighten us. Good for kids not for haunt lovers!!

| | |
| --- | --- |
| Scare Factor: | |
| Fun Factor: | |
| Haunt Value: | |

Posted November 2017

Lacks good special effects

A below average haunt. Not enough actors and lack of special effects make the experience more than worse. I heard they were recovering from fire, but the act didn't deserve more than $10 admission fee. The walk through the corn field was like a straight one and actors were not bothered to scare us. The staff were also rude, when we inquired about the theme and disconnect among the actors. So much disappointed.

| | |
| --- | --- |
| Scare Factor: | |
| Fun Factor: | |
| Haunt Value: | |

Posted November 2017

New horror experience

Cornfield always been a traditional haunted place, but Meadowbrook tossed up this concept with innovative ideas to create a new horror experience. We went in a group of six last night and we had a blast!! We bought the online tickets and fast pass let us skip the queue to get into the actions. The actors draped in the costumes of joker, creatures and zombies were damn scary. I liked their never die attitude of scaring us. We screamed, yelled, banged, jumped and ran from one extreme to other. Incorporation of a few more special effects would be great. Besides this, everything was fabulous and we love to visit them again.

| | |
| --- | --- |
| Scare Factor: | |
| Fun Factor: | |
| Haunt Value: | |

Posted October 2017

Email Verified

No scares, no fun

No scares no fun. No great experience. It was really boring an outing we had yesterday. There were plenty of actors adorned in different costumes reprising character of monsters and other gore creatures, but it was more like a show piece rather than acting out scenes. There was no storyline or theme to follow and this was not what we had expected. We were quite disappointed and not planning to visit again.

| | |
| --- | --- |
| Scare Factor: | |
| Fun Factor: | |
| Haunt Value: | |

Posted October 2017

Email Verified

Outstanding special effects

Meadowbrook was a good haunt..I and GF had a blast. The cornfield was spooky and had few creepy actors who had my GF jumping. The visuals and special effects were outstanding. Clearly some effort has gone into the designing of the haunt. Apart from the scares, there is a pumpkin farm from where you could purchase pumpkins. Ticket prices were OK. I will come back again.

| | |
| --- | --- |
| Scare Factor: | |
| Fun Factor: | |
| Haunt Value: | |

Posted October 2017

All actors were terrific

Mind blowing haunted place…had been there on a weekend. The cornfield was incredibly spooky, creepy and design of the setup was outstanding. The only snag was long queue and it became quite boring standing in the line. Impressed by the walk through in the corn maze and all actors were terrific in scaring us and they had a hunger in spooking us, this is something I've never experienced in other haunted houses. Besides this, the staffs were very nice and they are helpful in clarifying all our doubts. Overall, a great hangout place for real interactive horror experience at an affordable admission fee.

| | |
| --- | --- |
| Scare Factor: | |
| Fun Factor: | |
| Haunt Value: | |

Posted October 2017

Email Verified

Good scares and nice props

Went to Meadowbrook with my little nephew. It had good scares and nice props. The actors were kid friendly. When they found that he was overtly scared, they suddenly became their friends and helped him cope. There were few jump scares in the corn maze that got me. The clowns in the buildings were scary as well. I recommend this place to all scare lovers out there.

| | |
| --- | --- |
| Scare Factor: | |
| Fun Factor: | |
| Haunt Value: | |

Posted October 2017

was Asome cant beli9eve the lenght and effort to make it fun

It was an awesome Haunt Saturday night Oct 21 st about 9 30 pm Many very awesome actors , right in your face, hour and a half wait well worth it took us 50 minutes to get through we got lost in a maze house which was AWSOME there were 7 8 or 9 mini haunted houses themed well . actors were great . 100 of creatures and scenes was an understatement... We could not believe the work they put into this thin k anyone else would have charged 40 - 50.00 for this Haunt.. The field is so big one could easily fit 100 actors but at 15.00 an hour people want these days it would be impossible,, we spent time before feeding and petting the animals and enjoying the flaming Bon fire.. and eating carmel apples and popcorn.... we did hear a group complaining they were waiting three hours but they had number much higher than us and we were waiting an hour when we ran into them going into the quick line when we ran into them.. they as unruly as they were the security person handled them well dispite their comments... must have just bought the tickets because the security person got the sales time list and announced to them the exact time they bough their tickets and they had bought them over an hour after we did.. LOL they got humble quick... WE Really enjoyed the night out and the fun our group had...

Scare Factor:
Fun Factor:
Haunt Value:
Length of Event:
> 1 hour
Time Visited:
After 9PM
Would Recommend:
Yes
Suitable For Kids:
Yes

Posted October 2017

2 out of 2 found this review helpful

Email Verified

Get the terror of your life

Marvellous creativity. The maze was made of spooky lots of things. You really get the terror of your life here. If you want hand full of fun memories then come out with a group of friends for the ultimate scare adventure. Maze is puzzling as well as exciting. Each twist makes best surprises. Don't expect anything they actually know what are required to make you scream loud. Don't miss your visit to Meadowbrook Haunt!

| | |
| --- | --- |
| Scare Factor: | |
| Fun Factor: | |
| Haunt Value: | |

Posted October 2017

Email Verified

We had the best time

this is worth the visit! the crew was very believable and truly put their heart into the scare. They go out of their way to find that extra scared person in your group and well let's just say the rest of the group gets in on the fun too. Very long and well put together. The owners/ management are on site and very interactive with the customers. food is right priced and delicious. GO I assure you it is worth the trip!

| | |
| --- | --- |
| Scare Factor: | |
| Fun Factor: | |
| Haunt Value: | |

Posted October 2017

1 out of 1 found this review helpful

Corn maze was dark and scary

We had a blast last night. It is an awesome Halloween filled experience. The paintball hayride and the haunted trail were good parts or attractions. The corn maze looked very dark and scary. We had a great time trying to shoot the zombies. The staff was very friendly and nice. The characters were awesome. The lighting and glow in the dark paint was really beautiful. Will definitely come back next year.

| | |
| --- | --- |
| Scare Factor: | |
| Fun Factor: | |
| Haunt Value: | |

Posted October 2017
All information on this page was submitted to Wisconsin Haunted Houses and was believed to be accurate at the time it was posted. Please report any inaccuracies
here
.