Haunted Houses throughout Wisconsin Currently Hiring for the 2016 Halloween Season
Home » Blog » WisconsinHauntedHouses.com News and Updates, Wisconsin Haunt News
August 24, 2016 By Chelsea T.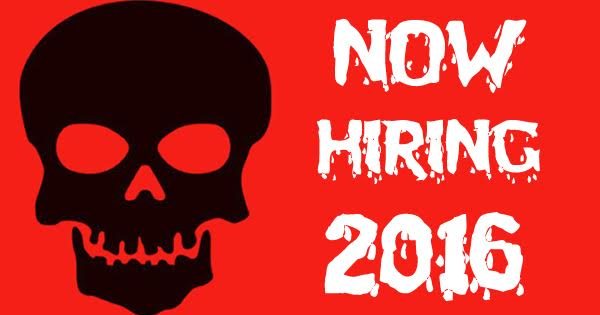 We are creepingly close to the Halloween Season and a bunch of Haunted Attractions all across Wisconsin are working hard to achieve a successful 2016 season. To assure all goes smoothly, a bunch of attractions are currently hiring new employees.
There are a variety of open positions that are waiting to be filled, ranging from scare actors who have the opportunity to get face to face with visitors, to behind the scenes workers including makeup artists, security guards, parking lot attendants, cashiers, concession workers and more. If you're interested in joining a haunt family for the 2016 Halloween Season, take a look at the list of local Haunted Attractions below and reach out today!
Abandoned Haunted House Complex
2825 SE Frontage Rd., Sturtevant, WI 53177
262-886-1182
Note: Must be 18 or older to apply. Deadline is October 1st.

Burial Chamber
500 N. Lake St., Neenah, WI 54956
920-727-4669
Green Bay Fear
1950 Bond St., Green Bay, WI 54303
920-309-0981
Note: Applicants must be 13 or older to apply.
Meadowbrook Haunted Cornfield
2970 Mile View Rd., West Bend, WI 53095
262-338-3649 | info@meadowbrookfun.com

Misery Haunted House
235 S. Wisconsin St., Berlin, WI 54923
920-460-9841
Terror on Rural Street
147 N. Rural St., Hartford, WI 53027
262-670-0998

The Haunted Mansion
9245 Lovers Lane, Brussels, WI
920-825-7065
Contact Cory Vandertie: cvandertie@southerndoor.k12.wi.us or Sue Marchant: marchants@centurytel.net
The Dark Side Haunted Adventure
N. 1255 Hoard Rd., Ixonia, WI, 53036
920-273-0612
The Hill Has Eyes
7900 Crystal Ridge Dr., Franklin, WI 53132
414-529-7676

Zombus - Zombie Apocalypse Paintball
2055 W. Frontier Rd., Little Suamico, WI 54141
920-826-5554 | commando@bayland.net
Is Your Haunt Hiring for 2016? Let Us Know!